There are two ways to add an upgrade to your resource library:
Method #1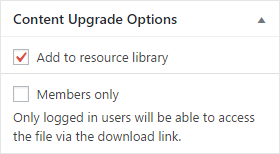 Edit your chosen content upgrade.
On the right-hand side look for "Content Upgrade Options" and check the box for "Add to resource library".
Then save the content upgrade.
Method #2
Navigate to Content Upgrades -> Settings.
Click the "Resource Library" tab at the top of the page.
Click the button that says, "Click to Launch the Library Builder".
Click into the "Resource Library" panel on the left.
You'll see a dropdown under "Add Content Upgrade". This dropdown will list all the upgrades that are not already in your library. Select one to add it.