There are two ways to remove an upgrade from your resource library:
Method #1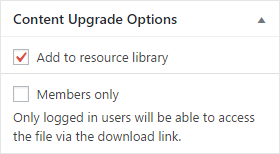 Edit your chosen content upgrade.
On the right-hand side look for "Content Upgrade Options" and uncheck the box for "Add to resource library".
Then save the content upgrade.
Method #2
Navigate to Content Upgrades -> Settings.
Click the "Resource Library" tab at the top of the page.
Click the button that says, "Click to Launch the Library Builder".
Your resource library will be loaded on the right. Each upgrade will have a link below it for "Remove Content Upgrade". Click that.
Your changes will be saved instantly.