To enable download logging, go to Content Upgrades -> Settings and click on the "Misc" tab. Find the option for "Log Downloads", check it on, and save.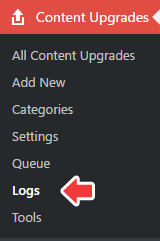 This will add a new link under the "Content Upgrades" menu for "Logs".
Whenever someone accesses a content upgrade, their information will be added as a new entry on the logs page. The following information will be collected:
Person's email address (may not always be logged).
Person's name (may not always be logged).
The upgrade they accessed.
The person's IP address.
The person's user agent.
The date the content upgrade was accessed.
Be sure to update your privacy policy
If you choose to enable logging, make sure you update your website's privacy policy. It's important to inform your website visitors that you may be storing their information (email, name, IP address, and site activity).