To start designing your opt-in form, follow these steps:
Go to Content Upgrades -> Settings.
Click on the "Forms" tab.
Click the button that says, "Click to Launch the Form Builder".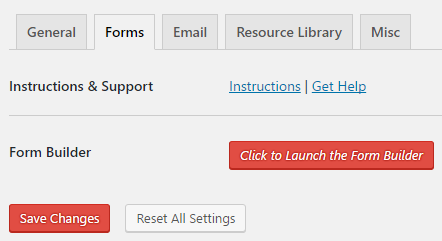 This will open up the Customizer. The settings are on the left and you can see a live preview on the right.
Note that the live preview isn't 100% accurate. In this panel, your theme's styles aren't loaded. Once the form is embedded into a post or page, your theme styles will be loaded and things like fonts and font sizes may differ.
There are two main panels:
Form Fields – Contains form settings and allows you to customize the text associated with the opt-in.
Form Design – Where you can change colours, borders, and other styles.
Form Fields
The "Form Heading", "Form Description", and "Below Form Text" can be customized on a per-upgrade basis. What you enter here is the default and will be used if you don't add custom text directly in the content upgrade.
Form Design
The "Quick Template" option allows you to quickly activate one of the pre-made form designs. It automatically configures the settings to match that design. However, after you choose a quick template, you can still continue to customize all the settings to change the design further.