Go to Easy Content Upgrades -> Add New to create your first content upgrade.
There are a few different boxes and I'll talk you through each of them.
Quick Links
You can click one of these to jump down to a section.
Title

Give your content upgrade a name.
Content Upgrade

This is where you add the actual content upgrade. You have two options:
Download – This will allow the subscriber to download a file.
Redirect – This will redirect the subscriber to a page.
If you choose "Download", click "Upload File" to upload and select your file.
If you choose "Redirect" a new box will appear allowing you to enter the redirect URL.
Form Text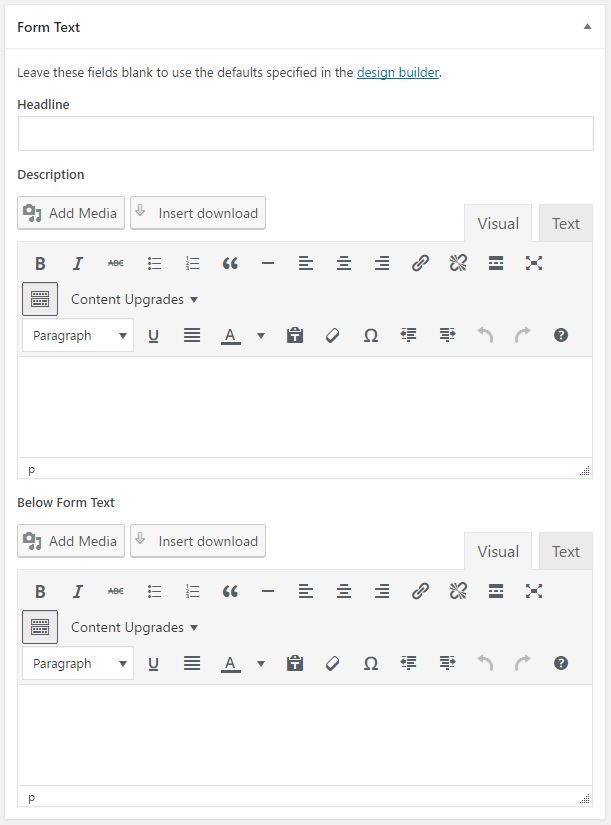 This optional section allows you to customize the text associated with the opt-in form. If you leave the fields blank then the default settings will be used. The defaults are what you have chosen in the design builder (Content Upgrades -> Settings -> Forms).
But this section is useful if you want the headline on one opt-in to be "Download the Free Checklist", but have it be "Get Your Free Meal Plan" on another opt-in.
Email Template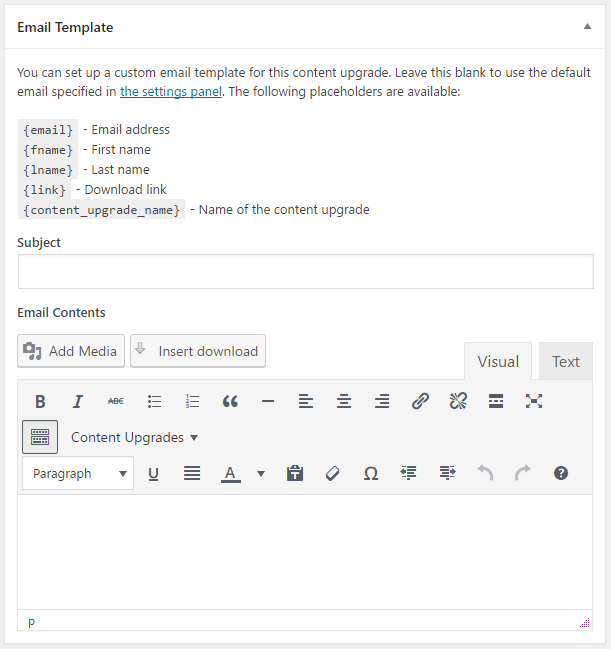 This optional section allows you to change the delivery email on a per-upgrade basis. If you leave it blank, the default email will be used (Content Upgrades -> Settings -> Email).
This email is only sent to new subscribers. Existing subscribers don't get an email since they're given the download/redirect instantly.
Mailing List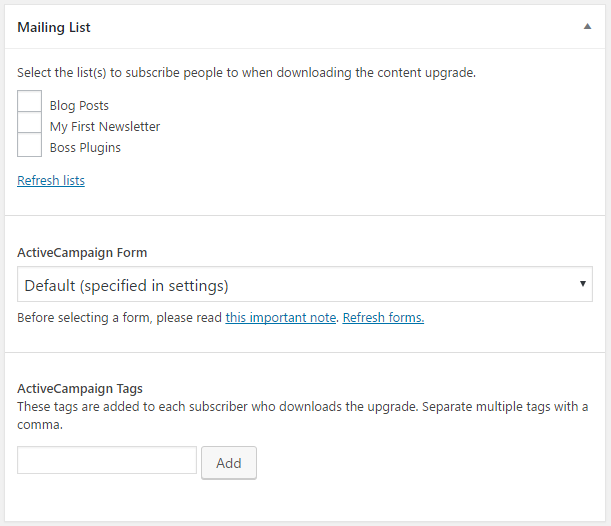 This box may look slightly different depending on your email provider. But one constant is that you can choose which mailing list(s) to subscribe people to. This is required for all content upgrades. If your lists aren't up to date, then click the "Refresh lists" link to refresh the lists from your provider.
With ActiveCampaign, you can also choose to mimic a form (read this article for more details) and you can set tags to apply to each person who downloads the content upgrade. Even existing subscribers will have these tags added to their profile.
Content Upgrade Categories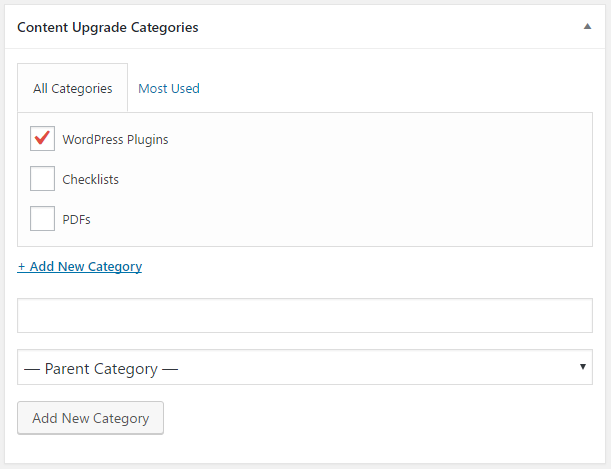 Optionally, you can categorize your content upgrades. This is purely for your own organization. These categories are not shown on the front-end of your site.
Featured Image

If you set a featured image, it will appear on the actual opt-in form. Here's an example: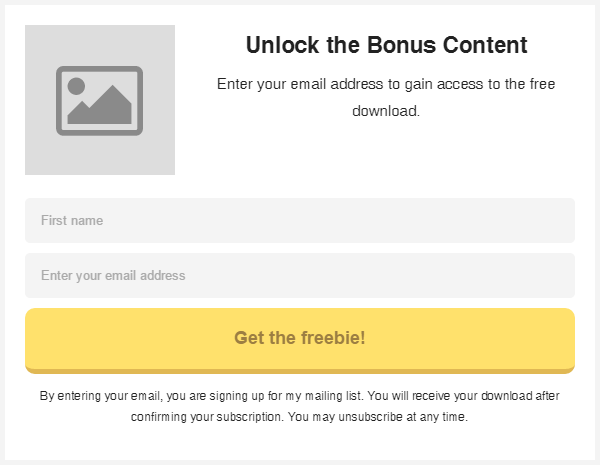 Content Upgrade Options

There are two options here:
Add to Resource Library – Checking this and then saving will add this content upgrade to your resource library. You can also remove it from your resource library by unchecking the box and then saving.
Members Only – This will restrict content upgrades to logged in users only. Note that everyone will see the opt-in form, but only people who are logged into your website will be able to access the final download.
Content Upgrade Information

Displays useful information about the current content upgrade.
ID – ID number of the content upgrade.
URL – Direct URL to download the content upgrade. It's not recommended that you share this publicly, because this private URL will grant immediate access to the content upgrade without first checking to see if the user is subscribed. Use this for your own reference only.
Shortcode – This is the shortcode you can paste in a blog post or page to embed the opt-in form.