I wanted to integrate Easy Content Upgrades with some of the most talked about email marketing platforms. Since I had to use each of these platforms' APIs and do a lot of testing, it gave me a chance to work with each platform. So I thought I'd write up a comparison post with my thoughts about each one.
I tested the following providers (click to jump to their review):
Of course there are other options too (like Constant Contact and AWeber) but these four are the ones I see most talked about in the groups I frequent.
(My links to ActiveCampaign are affiliate links and I'll earn a small commission if you sign up with them. 🙂 )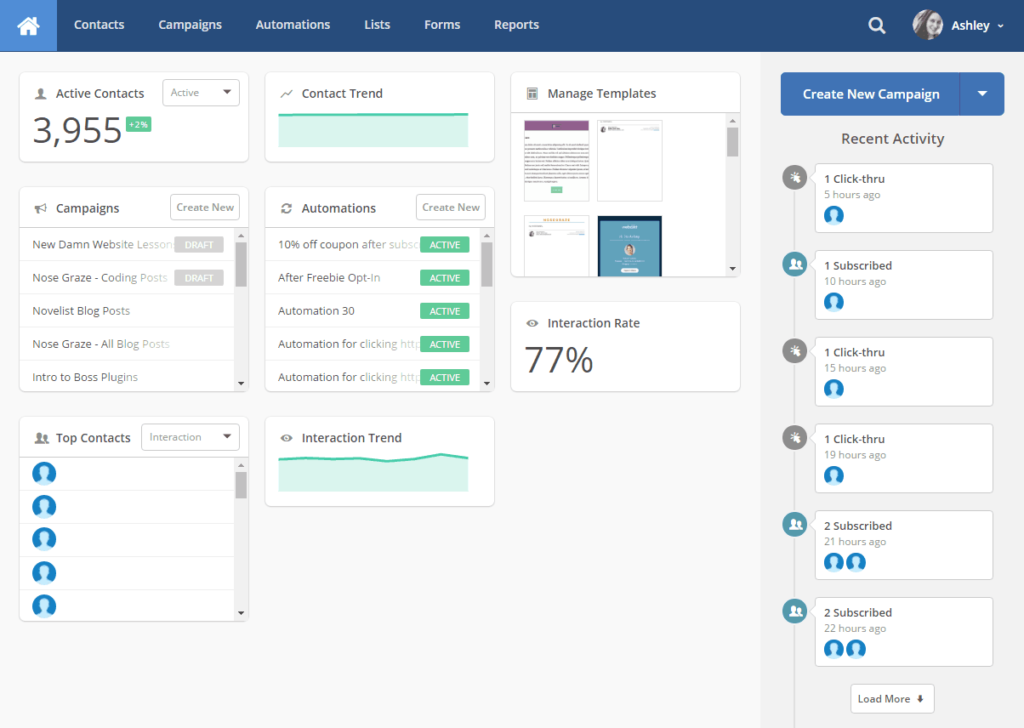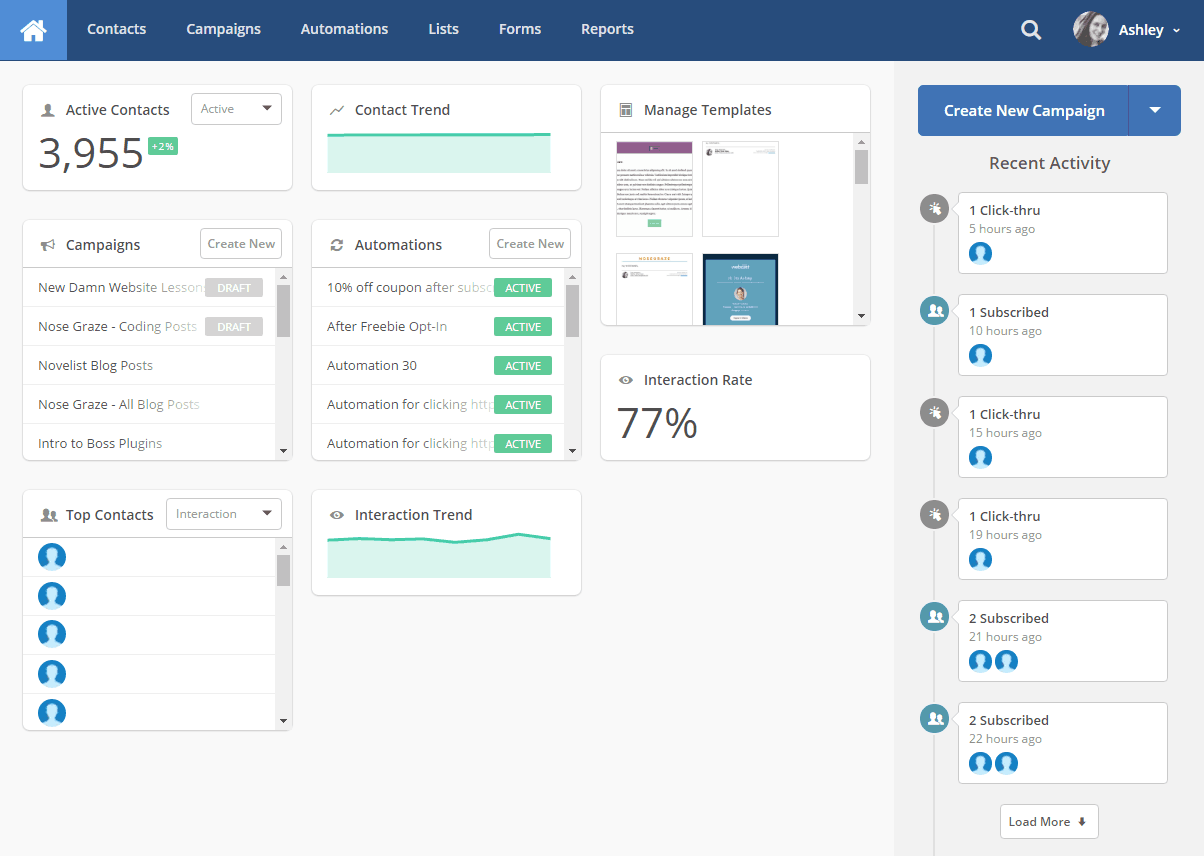 ActiveCampaign is my provider of choice. Though I'll do my best to leave my bias out of it. 😉
I chose ActiveCampaign because of it's advanced automation features. There's truly so much you can do with them! But let's look at all the features.
Pros:
Includes pre-made templates and you can customize them to create your own.
Support for multiple lists and super complex segmenting.
You can tag subscribers, and it's super intuitive.
Upgraded plans have CRM features.
It has an incredible site and event tracking API. Imagine if you merged your email list with Google Analytics—that's what ActiveCampaign can do. You can see which pages on your site a specific subscriber looks at, and trigger new automations based on those visits (plus other stuff).
Deliciously complex automations with if/else branches, webhooks, tagging, and more. You can do pretty much anything you can imagine.
Webhooks! Yes! This allows me to do cool things like easily send personalized shop coupon codes when someone subscribes to my list.
Cons:
This is largely personal preference, but I'm not a fan of the interface. I can't even really tell you why—it's just this weird feeling of "ick" that I have. Something about it feels clunky.
Building on that previous point, I don't really like their page/form builders.
Creating email series is kind of annoying. You can absolutely do it, but managing the series and reading/editing emails requires a lot of clicking. I think this becomes a particularly noticeable con when you compare it to a deliciously simple UI like the one ConvertKit has.
API-wise, there are some really annoying limitations. For example, the ONLY way to enable double opt-in is to link the subscription to a specific form. But this means you can only sign up the user for lists specified on that form. If you try to sign them up for List A via the API, but the form isn't configured for List A, then double opt-in won't work for List A. It's really kind of stupid. Because of this, Easy Content Upgrades had to handle the double opt-in inside the actual plugin (otherwise it would force users to create a new form every time they wanted a new list—bleh).
Building on that API comment, a lot of the API responses are kind of messy. I have to strip out a lot of array keys before I can handle the actual data because the array formats are weird.
Pricing
ActiveCampaign pricing can be a tad confusing because they have three different plans, then different prices for each of those plans depending on your number of subscribers.
So here's what it looks like for 500 contacts: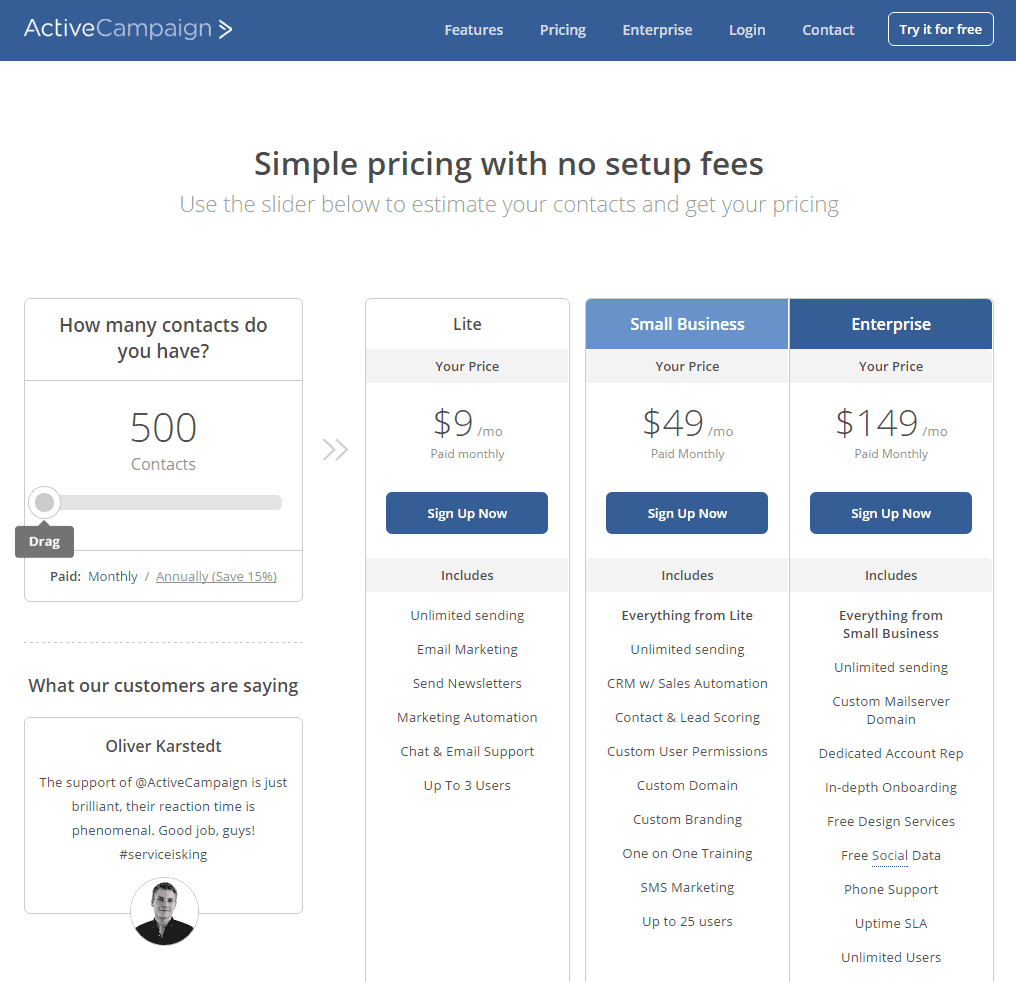 But if you increase that to 2,500 contacts, the prices change to: $29/month, $73/month, and $149/month.
Campaigns & Templates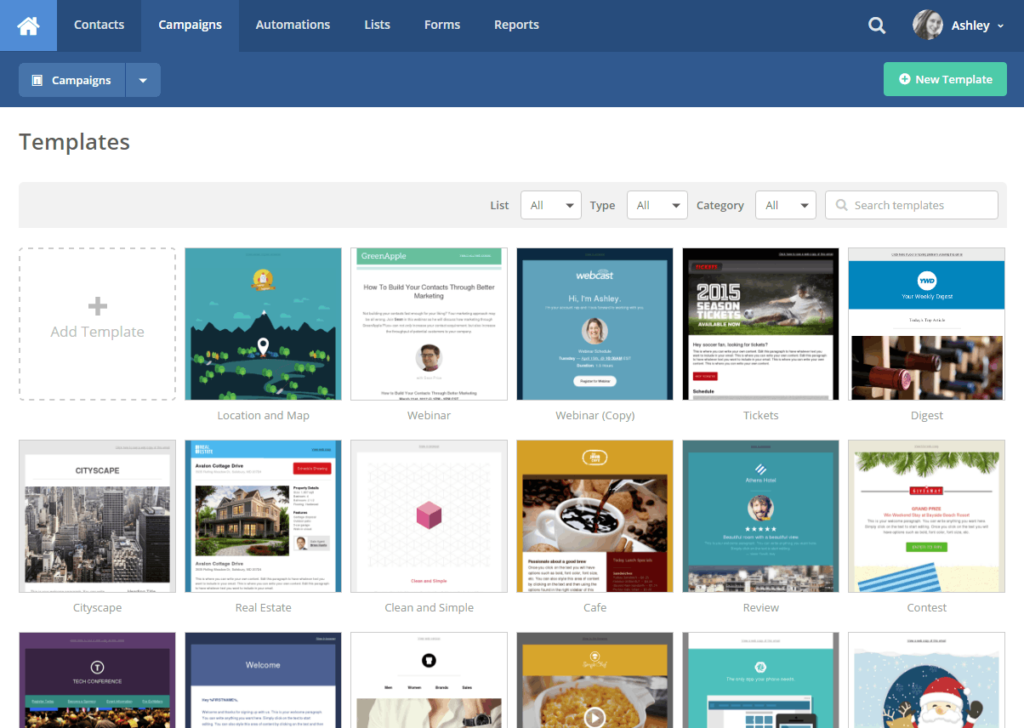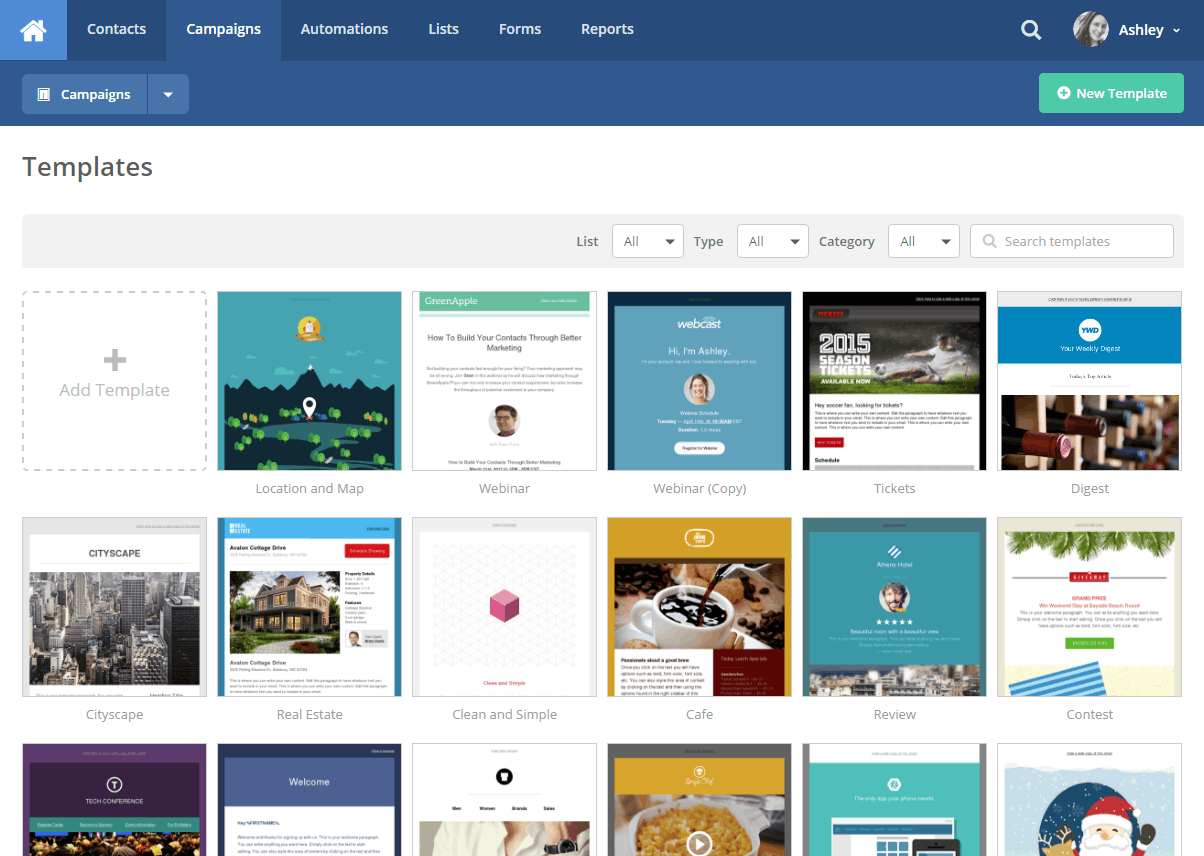 ActiveCampaign comes with a large selection of pre-made templates. A lot of them aren't really to my taste, so I built my own, but maybe you'll feel differently.
As far as building templates go, you can create your own from HTML or they have a template builder you can use. I don't love the template builder, but then again I'm not hugely a fan of visual editors to begin with, so maybe I'm not the best person to weigh in on this. I guess I feel like it's annoying and clunky to make everything consistent. If you have more than one text block you have to manually edit them both to get the settings the same.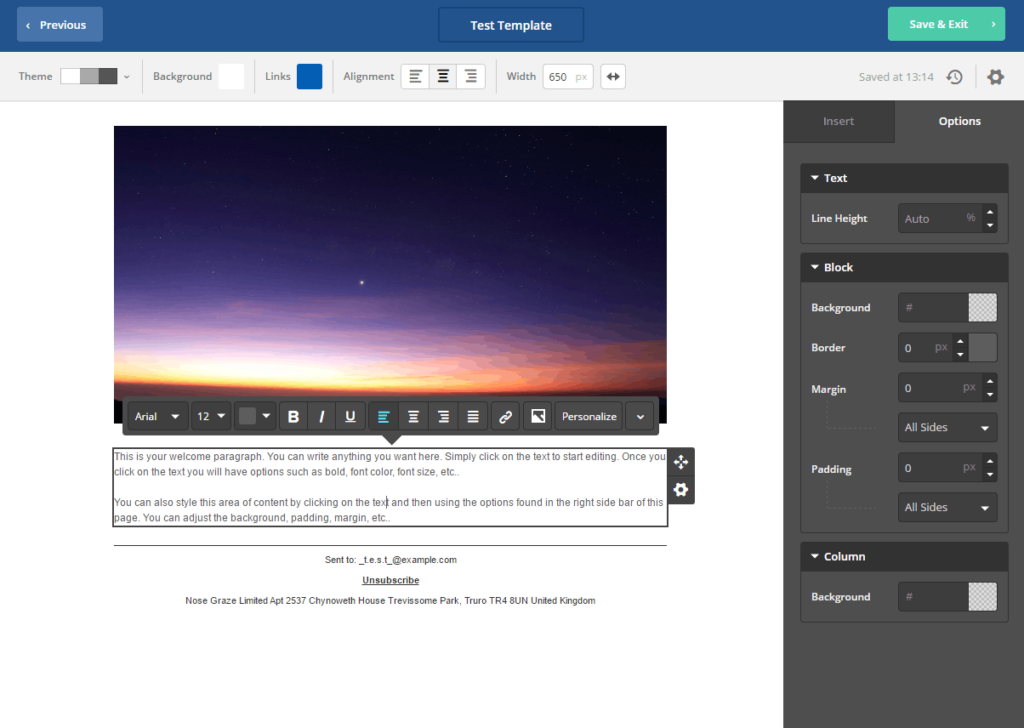 One thing I really don't like about sending campaigns is they really hide some of the settings. See that gear icon in the upper left? That's where the "Subject", "From", and "Reply to" settings are hidden. I forget about them ALL THE TIME, which is kind of annoying because I quite often like to change those. So more than once I've created a campaign, forgotten to change the "Reply to" address, and all the replies went to an email I didn't want. -.-
Forms
I really like how you can add "labels" to your forms. This is useful if you have a lot of forms and want to group them together.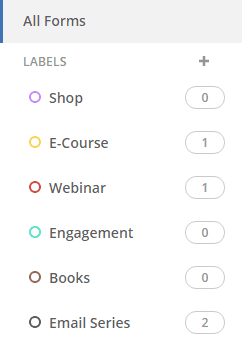 As far as form choices go, they're quite limited compared to some of the other platforms here.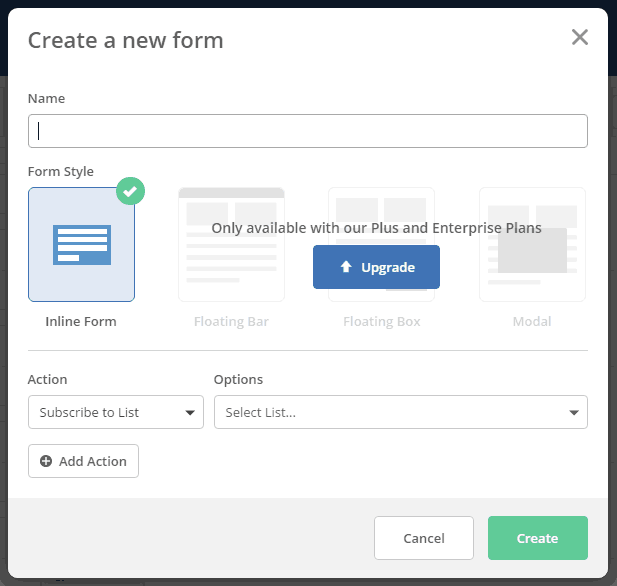 It doesn't bother me much since I code all my own forms with the API, but I think this will be a big deterrent for most people. Upgrading to the "Plus" plan is more than double the price, and most bloggers won't need any of the extra features other than more forms (like CRM, lead scoring, custom branding in the admin area, SMS marketing, etc.).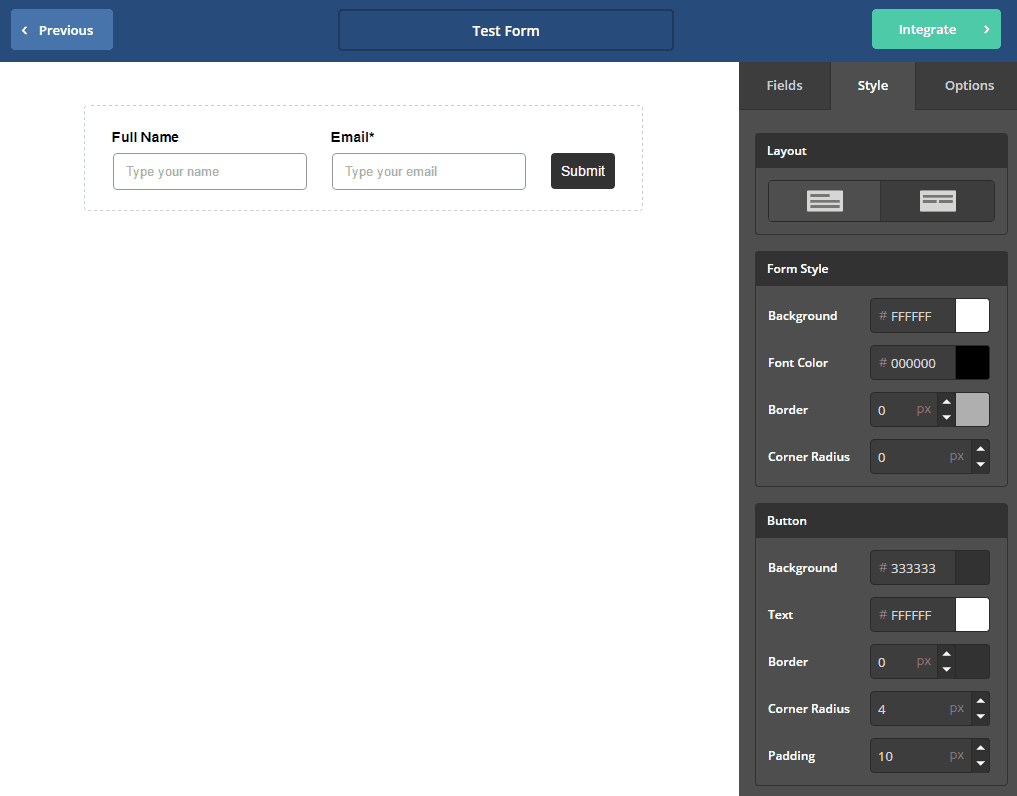 The actual form builder interface is okay I suppose. It's not my favourite though, and I don't love the default design. It's not very inspired.
One thing that annoys me is that there's no "naked"/simple form option with no CSS (like MailChimp has). This makes it annoying for a developer who'd rather use 100% of their own CSS.
Also, it's really hard to find the double opt-in. It's buried in "Options", then you have to click a gear icon next to your list, and then you see the option.
Automations
Automations. This is where ActiveCampaign destroys all others. Their automations are incredibly powerful, and unlike many other providers, they're not just limited to sending emails.
Here's what the triggers look like: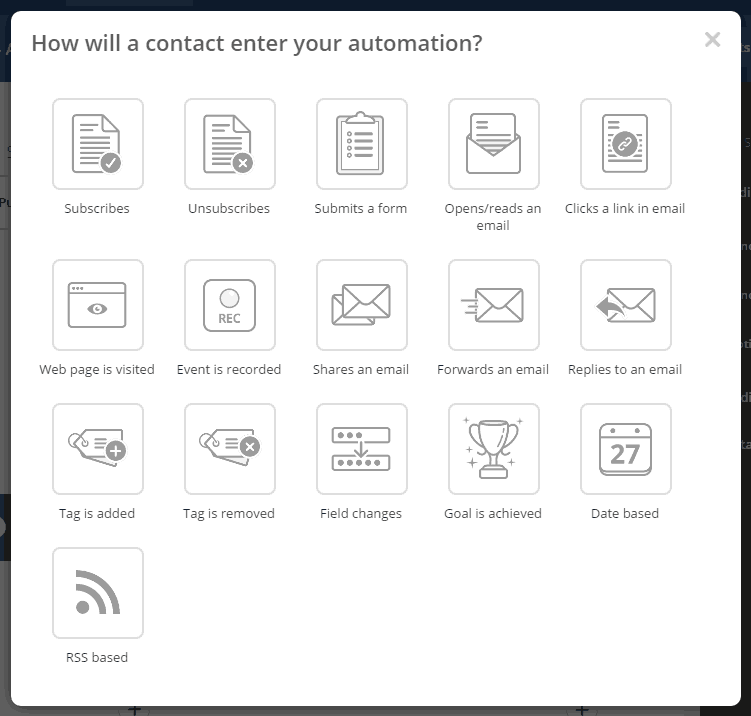 And the action options include: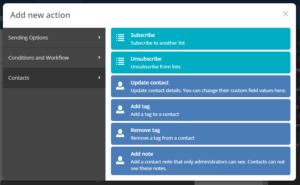 Send email
Send SMS
Notify someone
Wait for a period of time
Create an if/else branch based on conditions
Go to another action
Start another automation
End this automation
End another automation
Post contact data to a URL (webhook)
Subscribe person to another list
Unsubscribe the person from lists
Update contact custom field values
Add a tag to the contact
Remove a tag from the contact
Add a note to the contact
Here's what one of my after purchase automations looks like: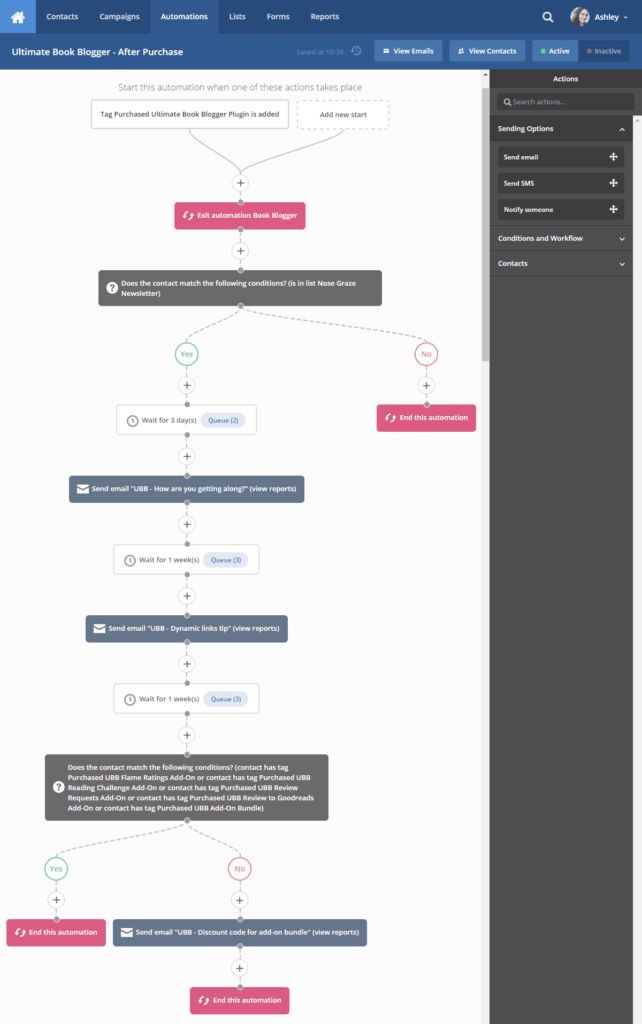 So in short, here's what happens:
I exit them from another automation that was leading them into the product purchase in the first place.
If they're not signed up for my newsletter, I exit the automation so as not to bother them.
Three days after the purchase, I send them an email asking them how they're doing and reminding them I'm there if they need help.
One week later, I send them a tip about what the product can do.
One week later, I check to see if they've purchased other products and if not, I send them a discount code for that product bundle.
You can get really advanced with if/else statements, different branches, and checking against different conditions. This is the whole reason I joined ActiveCampaign in the first place.
The one thing I don't like about their automations is that creating an email series is a tad cumbersome. Although the above screenshot isn't exactly a true email series, it gives you some sense of what it's like. You create a new action ("send an email") but then you have to go to a separate page to choose your template and write your email, adn then go back and start all over again. It's just so much clicking around.
---
(My ConvertKit links are affiliate links so I'll earn a small commission if you sign up with them. 🙂 )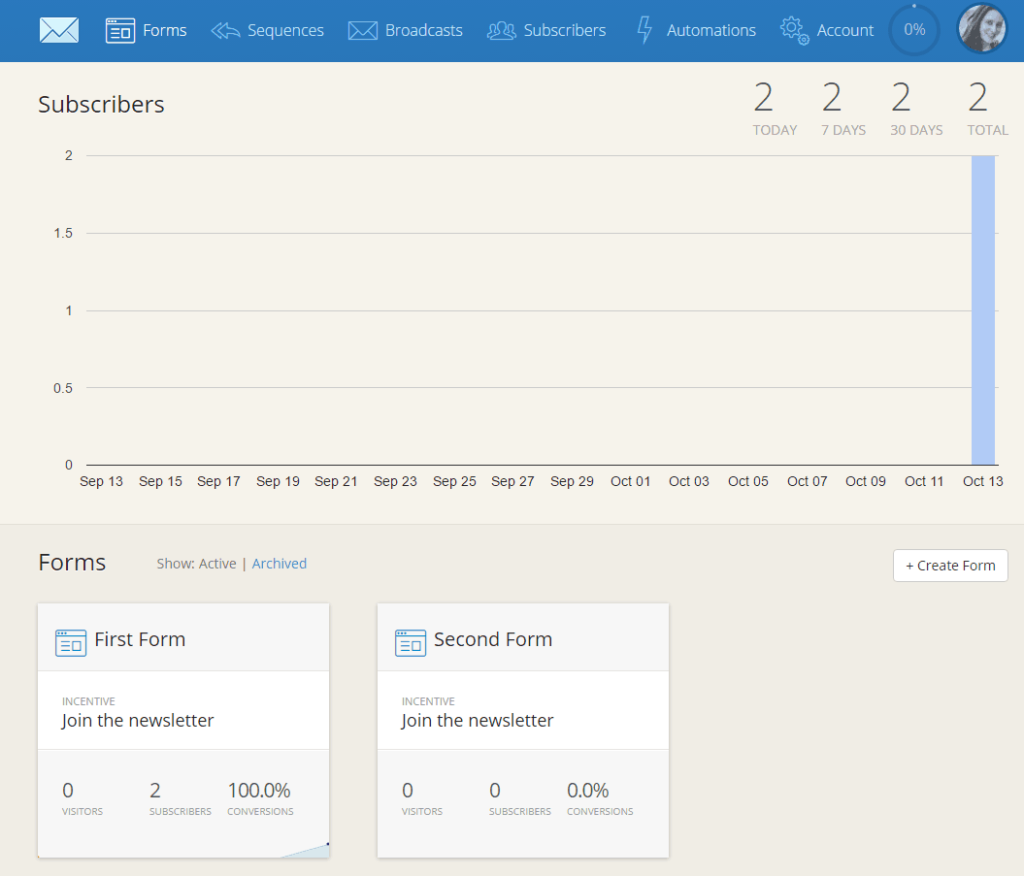 I've heard A LOT about ConvertKit, but had never really checked it out myself until now. I finally bought a month so I could integrate it with Easy Content Upgrades, and thought I'd poke around a little while I was there.
Pros:
Super simple.
Very easy to understand. You'll pick it up in no time.
Great documentation.
I get the impression that ConvertKit isn't merely providing a platform—they also care about helping their users understand marketing and how best to use their platform to improve their business.
They're very transparent about any issues they're having. If you look down below at my "Broadcast" screenshot, you'll see a warning icon below their logo. They use this to convey any current issues with their service.
Cons:
No webhooks.
Quite pricey compared to other options.
No template builder (for me this is a pro, but I imagine many people will see it as a con).
Limited form customization (but they do have some documentation on how to build your own if you're comfy digging into HTML and CSS).
They're one of the newer companies here and as a result, they're experiencing more growing pains. They're usually very transparent about their issues, which is good, but some people just don't want to deal with growing pains period.
Pricing
ConvertKit is the priciest of the platforms I've looked at. Their lowest plan is $29 per month, which allows for 1,000 subscribers. Here are a few other examples:
3,000 subscribers: $49/month
5,000 subscribers: $79/month
8,000 subscribers: $99/month
Campaigns & Templates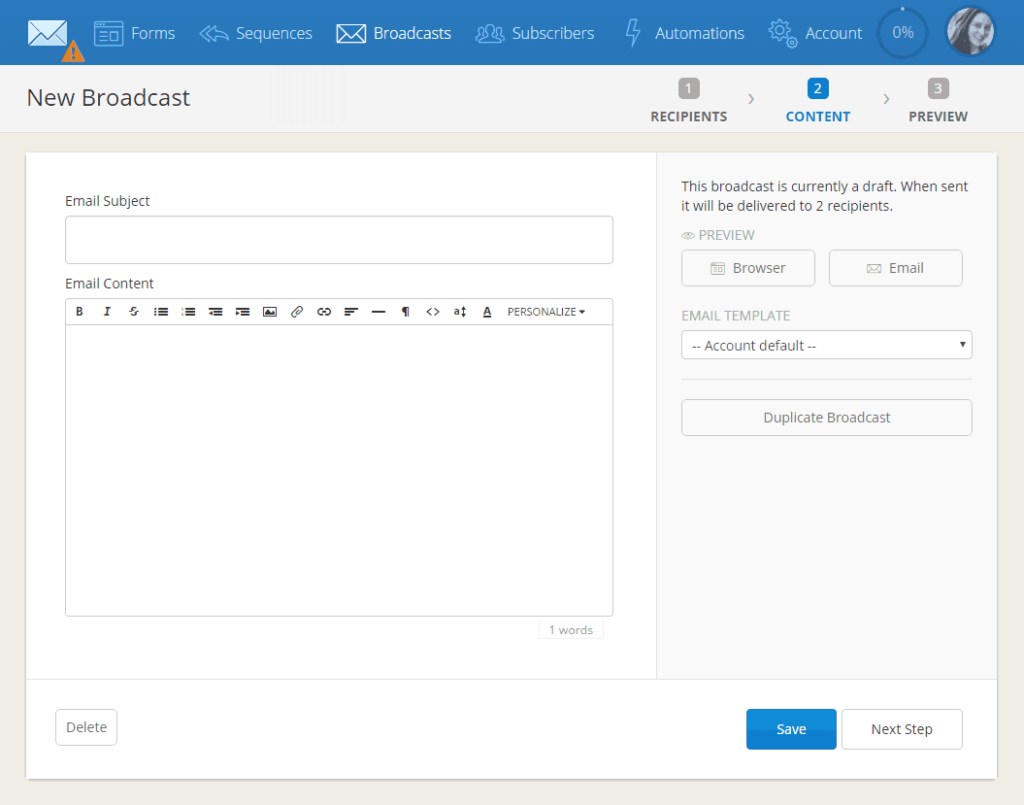 ConvertKit's campaign (or "Broadcast") interface is certainly unique compared to the other choices. It's super slimmed down. They don't even have a template builder! …But this is actually my favourite part about it.
As a developer, I hate the other platforms' clunky template builders, especially when I have no interest in using them. But ConvertKit's is no mess, no fuss, no distractions, and it's super quick because of it. No clunky layout builders to work around.
The one downside to me was that I had to actually read the documentation in order to find where you can create and save your own templates (if you're a developer and can code your own). In the screenshot above, you can see the dropdown for "Email Template", which made me think I could create templates, but I had no idea where! I think there should really be a subtle link there to "Manage Templates".
If you're wondering, the page is hidden in Account > Email Template.
Forms
The downside of ConvertKit's forms is that they're not really customizable. Sure, they have different form styles ("full", "minimal", "naked"), but the colours and positioning can't be changed.
On the bright side, the forms do look quite sleek to begin with, and ConvertKit does have some very generous documentation for using HTML and CSS to customize the forms. But that kind of coding may be more than some people are interested in doing.
Automations
While not quite as extensive as ActiveCampaign's, ConvertKit's automations certainly have a lot of power behind them. The main benefit is the simplicity behind them. While ActiveCampaign's might look overwhelming, ConvertKit's look very easy to grasp.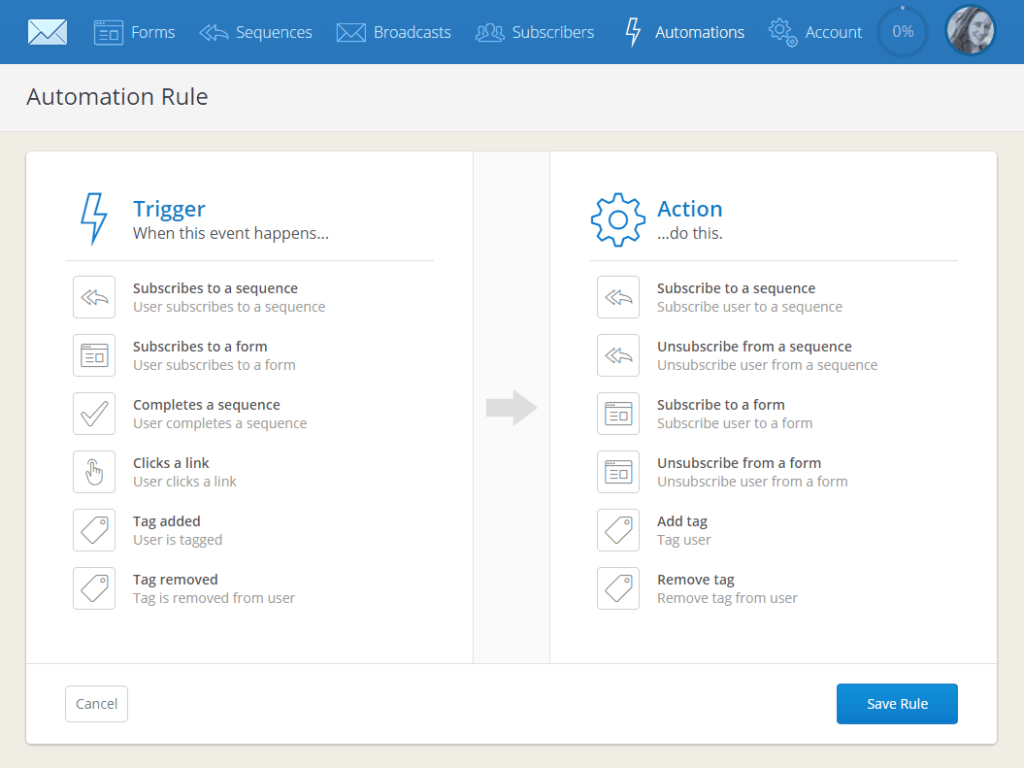 But where ConvertKit beats EVERYONE is with their "Sequences". This is how you can create an email series. Take a look at the workflow:
Check out that third screenshot. No other provider I tried out allowed me to super quickly and easily see all series emails in one place. With ActiveCampaign, for example, it's easy to see the email flow but it takes so many clicks to just create a new email or edit an existing one. But in ConvertKit, they're all clearly in one place and you can quickly tab between them. So easy!
When I created my sequence, ConvertKit automatically created 8 email drafts for me with a recommended marketing workflow (soft sell, educational message, hard sell, etc.). This kind of guidance was super interesting!
The "Reports" section shows you some nifty statistics all in one place. It's great how much data you get in such an easy, intuitive format for an email series.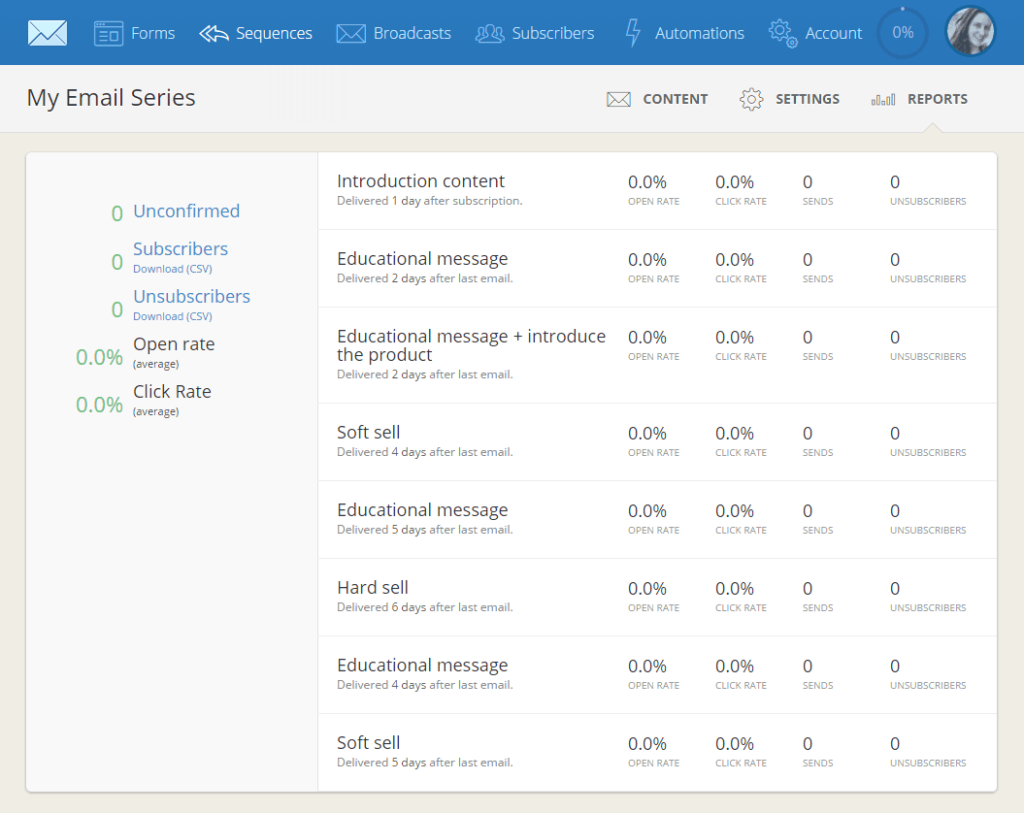 ---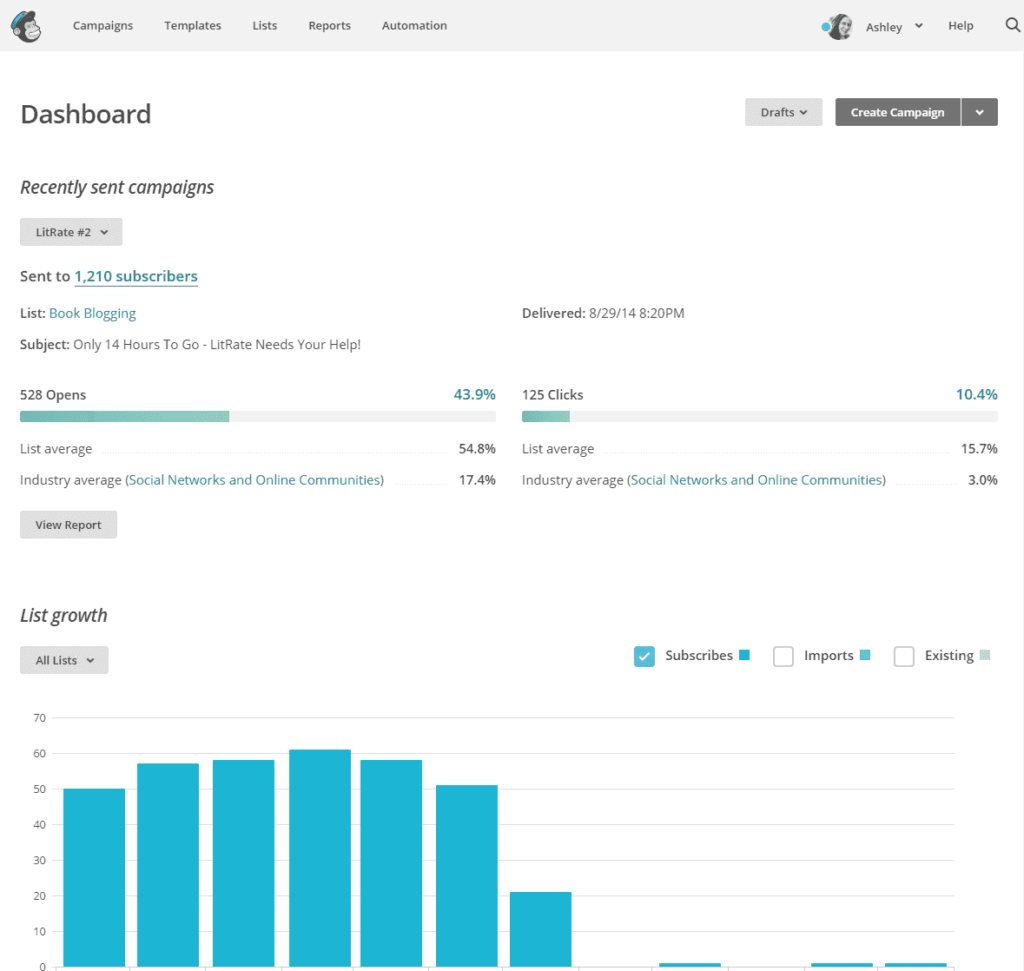 I think MailChimp is a great platform for beginners, largely because it has one of the biggest market shares. That means it's so easy to get help with MailChimp if you need it, despite the company not offering support to free plans. There are tons of guides online, or if you want to ask a friend, odds are you can find someone else on the platform.
Highlights include:
Free plan up to 2,000 subscribers and 12,000 emails per month.
Extensive template options.
Easy to use template builder.
Support for multiple lists and segmenting.
Automation capabilities (paid).
But some of the cons include:
You're charged per person, per list. So if you have one subscriber on two lists, that counts as two subscribers. Lame.
Segmenting is not very intuitive. They don't support "tags" in the normal sense. They have "merge fields", which can act similar to tags, but they're clunky and messy to work with when compared with other platforms.
Automations aren't very complex. If you just want to send email series, they work great. But that's pretty much all you can do with them. You can't use automations to segment, tag, etc. (from what I understand—correct me if I'm wrong).
Pricing
MailChimp's pricing is based on the number of subscribers you have. They have a nifty calculator that will help you figure out your monthly price. Here's a glimpse at some of the lower numbers: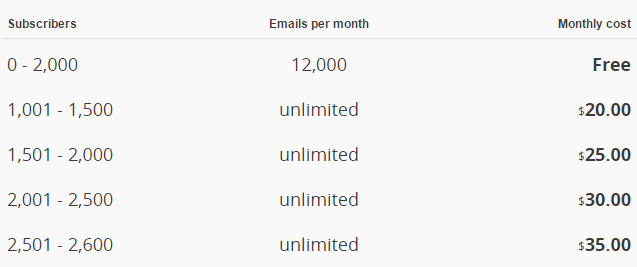 Campaigns & Templates
MailChimp has A LOT of template options… but I see it as a con. Any time I open up the template options, I just get template overwhelm.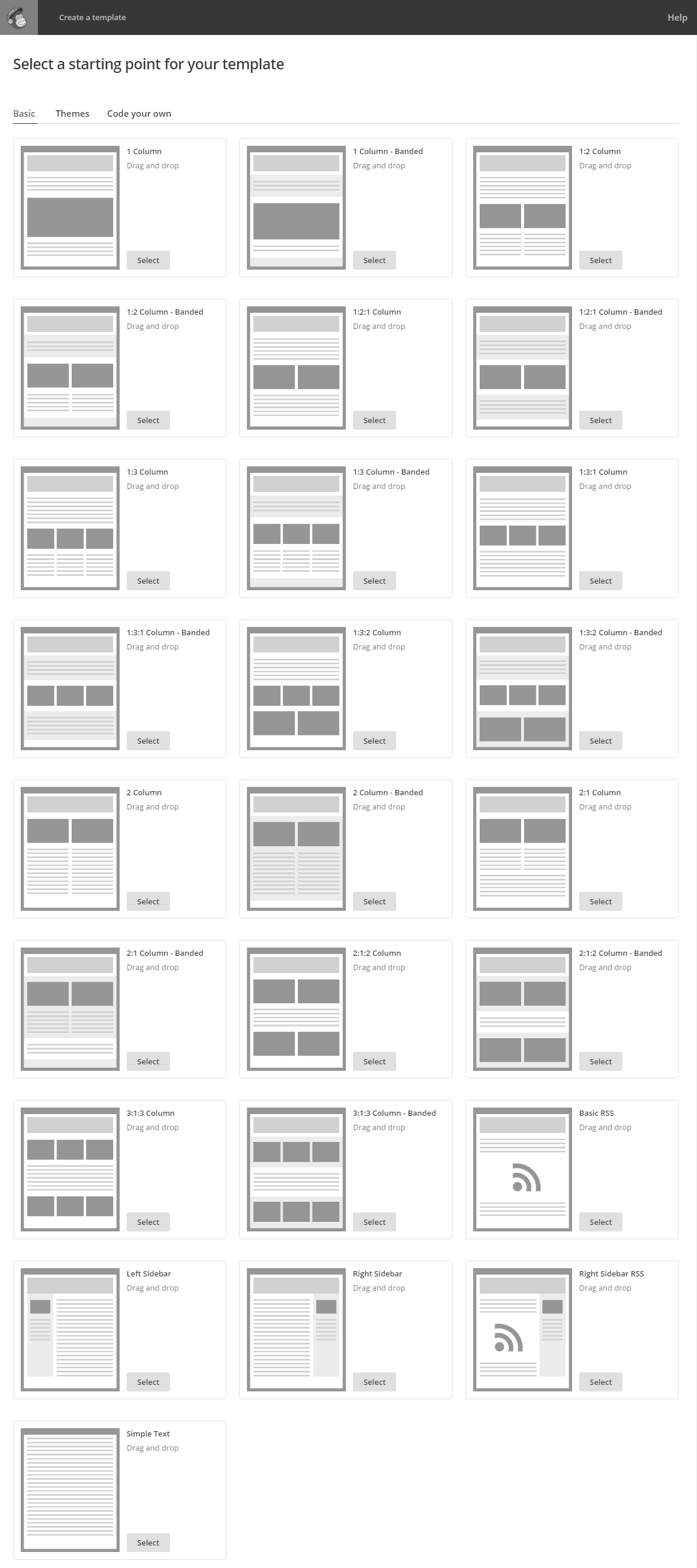 Good lord. I don't know about you, but if I was new to MailChimp I'd be totally freaking out at this point. Then there's a whole other tab full of "stylized" templates as well.
Just far too many choices, in my opinion.
As far as the actual builder interface goes, it's okay. I really like how there's a very clear "preview and test" button at the top.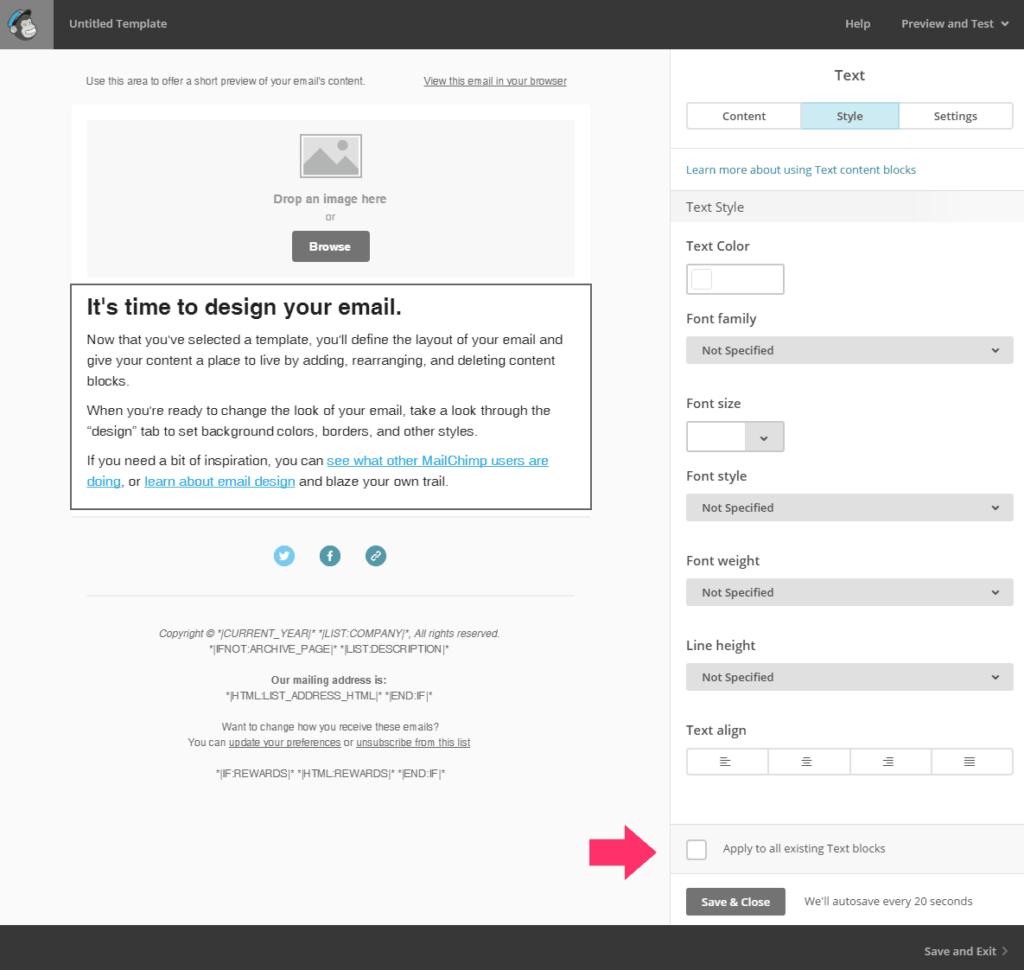 You know what is awesome? That checkbox at the bottom that says, "Apply to all existing Text blocks". Hello, wonderful.
Forms
There isn't actually a "Forms" link at the top of the page, so this can be hard to find. You have to go inside "Lists" first, then click "Signup Forms" for an individual list.
MailChimp has these form choices available:
General Forms – My first question would be, "what is a general form?" This isn't even clear once you click through, but it's basically a form hosted on MailChimp's website. Kind of like an uninspired landing page.
Embedded Forms – These are the forms you'd usually be adding to your website. There isn't any kind of form designer so the style is really quite bland. But I do really appreciate that MailChimp has a "naked" option, which is a form with no CSS or any design fuss. This makes it easy for developers to style their own.
Subscriber Pop-Up – The popup builder actually has more design options than embedded forms. You can change the layout, add an accompanying image, and customize colours. But it looks like they only have one pop-up option: immediate. No scroll in, no exit intent, etc. So I think most people will still be drawn to third party pop-up options.
Form Integrations – Twitter, Wufoo, and Squarespace integrations.
Automations
Sadly I can't comment on this area since I didn't buy an upgraded account.
---
MailerLite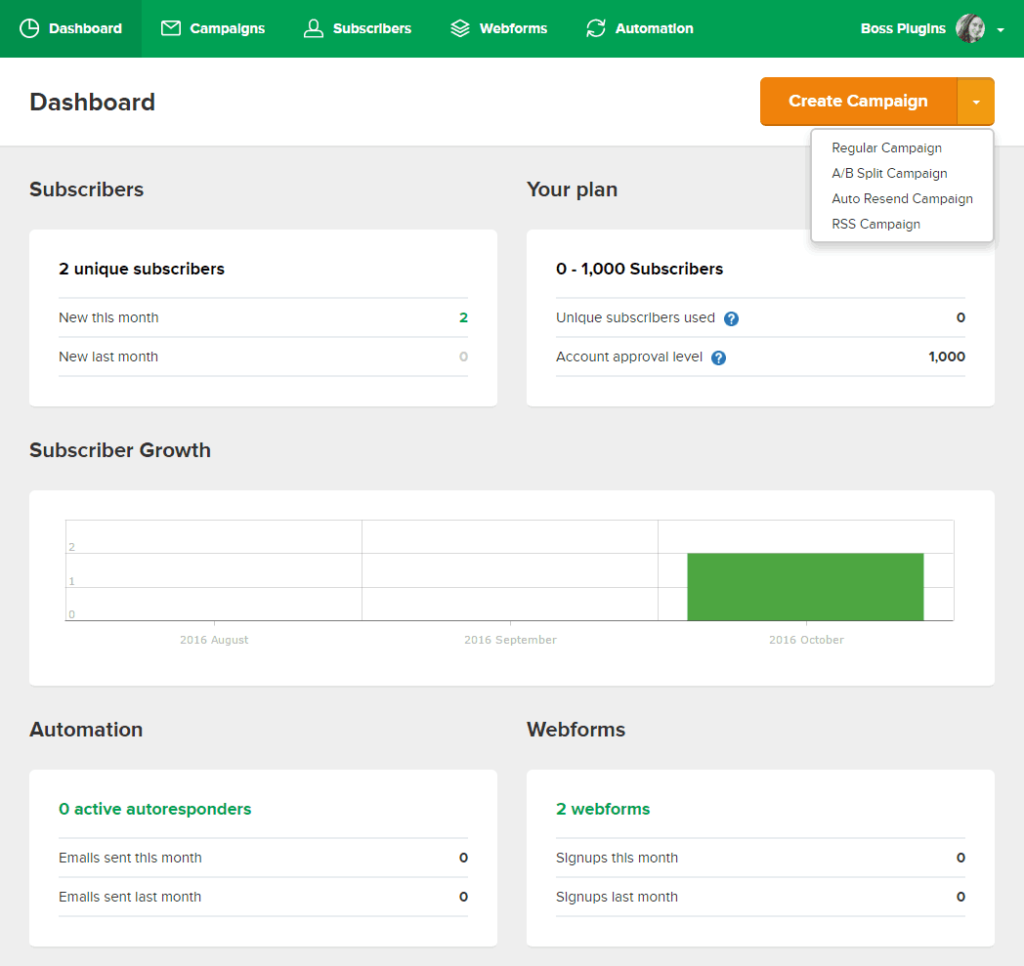 MailerLite is a new-ish discovery for me. I'm not sure it's a super popular platform (yet?) but it's come up a lot lately. There seems to be a lot of migration from MailChimp to MailerLite right now.
I'm a big fan of MailerLite. It has a very simple, easy to use interface that feels clean and organized. But more than that, it's quite powerful even on the free plan.
The one main downside for me was that I had to wait for manual approval for my free account. This took six hours. I think some features were disabled during this process, but since I wasn't truly using the service to send campaigns, I can't say for certain. I know that the API worked and I was able to add subscribers that way. Perhaps it was just campaign sending that was disabled.
Pricing
MailerLite is very competitive with their pricing. One of the best things about MailerLite is that their free plan (up to 1,000 subscribers) comes with all features—including automation! This is much better in comparison to MailChimp, who limits features on their free plan.
Here's what the MailerLite pricing looks like:
1,000 subscribers: Free
2,500 subscribers: $10/month
5,000 subscribers: $20/month
10,000 subscribers: $35/month
All of their plans are very reasonably priced, which makes MailerLite a great option for people who are on a budget but still want something decently powerful.
Campaigns & Templates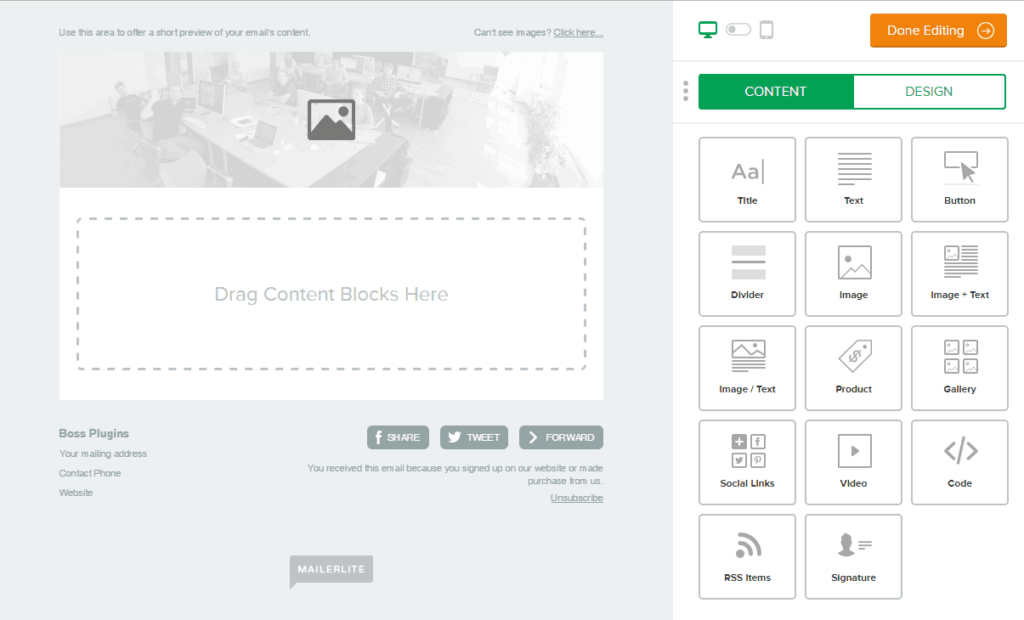 The MailerLite campaign interface reminds me a lot of MailChimp, but less overwhelming. They still have a template gallery, but far fewer options. And once you get into the drag and drop editor, it reminds me a lot of MailChimp.
After playing with ConvertKit, the MailerLite interface for drafting an email does feel cumbersome to me, but if you're a template builder kind of person then you'll probably be fine with it.
Forms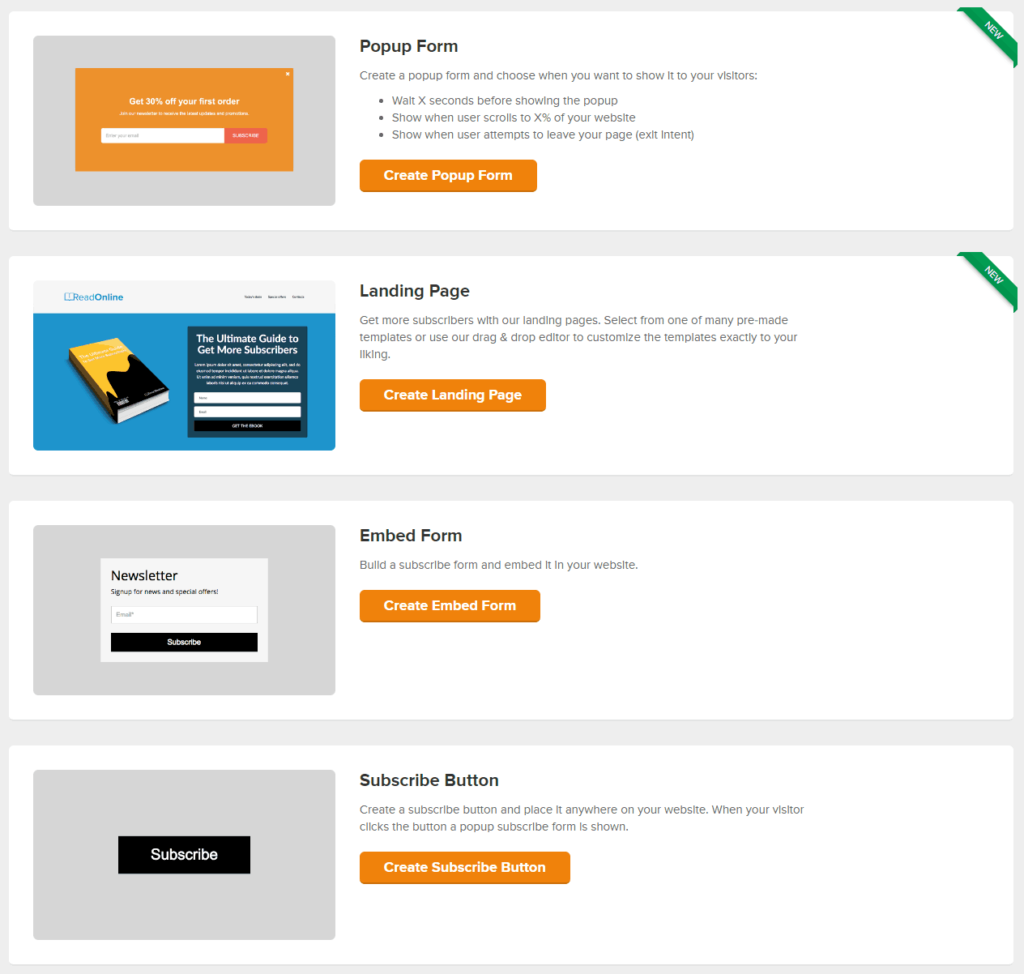 Wow MailerLite has some great form choices! It's actually quite surprising how much form bang you get for your buck.
Popup Form – Time trigger, scroll trigger, exit intent.
Landing Page – Select from a pre-made template or use a drag and drop editor to build your own. They have templates for popular promotions like e-books, e-courses, pre-launches, webinars, coming soon pages, and more.
Embed Form – Classic form embedded directly in your page.
Subscribe Button – Button that triggers a popup when clicked.
I like how the interface for designing the form isn't overly complicated. They have a great balance between simplicity and customization. It actually might be my favourite out of all the providers.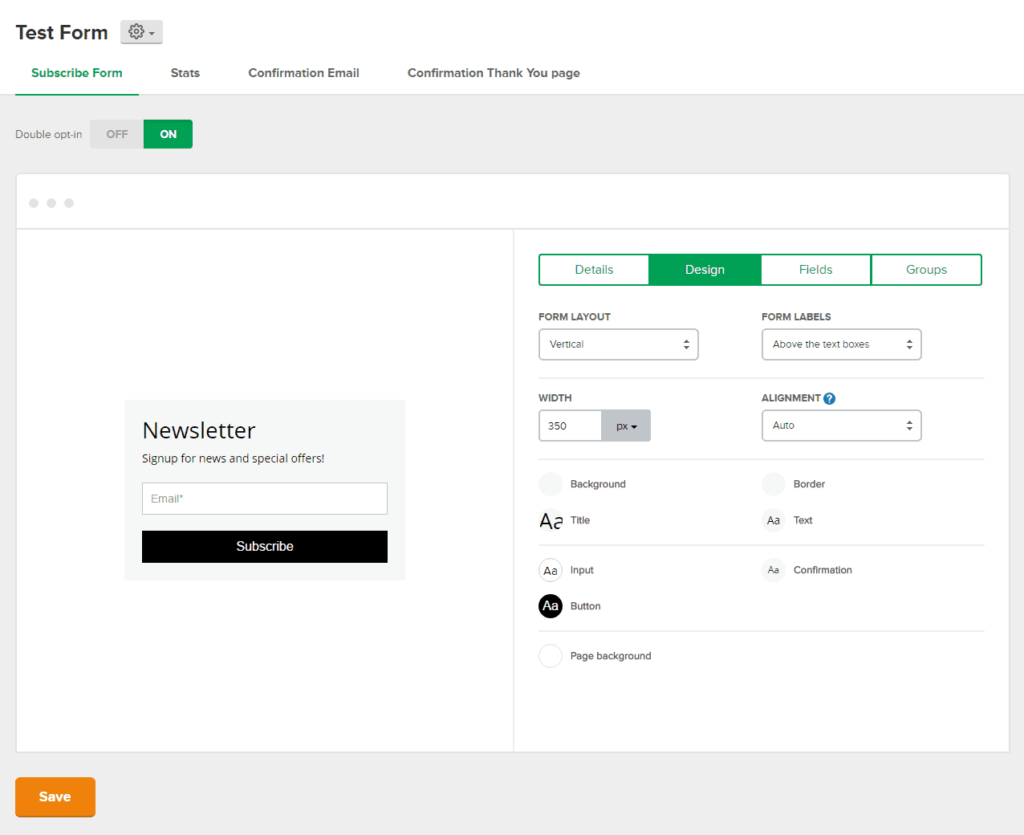 Automations
With MailerLite, automations are even available to free plans! Hell Yes!
You can set up the following triggers: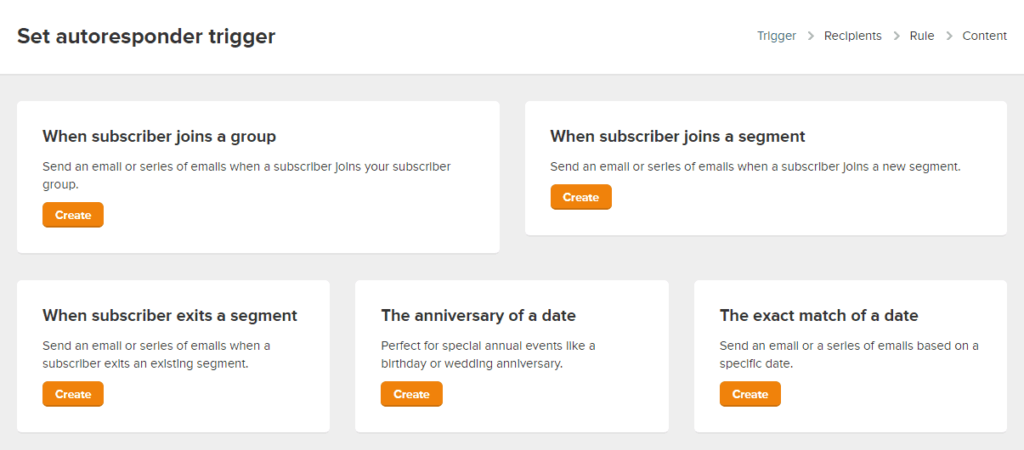 For this test, I chose when a subscriber joins a group. After I select my group, I'm taken to the "rule and subject" page: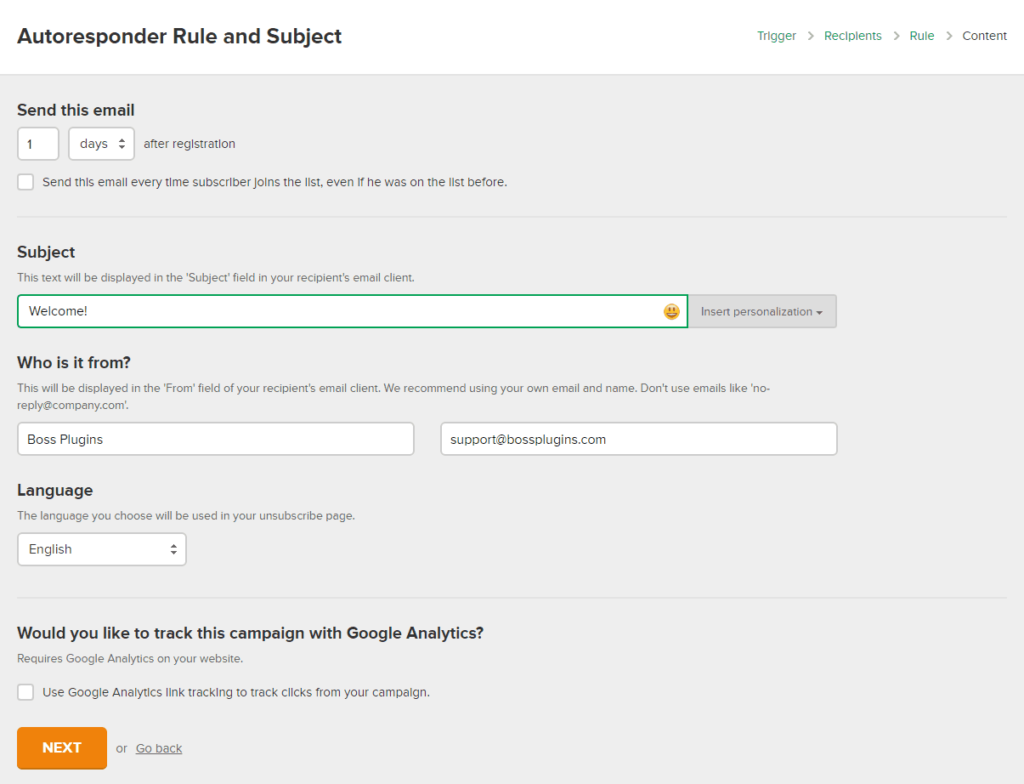 Then on the last page, you're taken to the familiar campaign builder to write your email.
I think it's fantastic that automations are included in the free plan, but they do seem limited. The only available automation is to send emails, which isn't as extensive as some of the other choices here, though it is probably what people most commonly want. However, it does seem incredibly cumbersome to write an email series. You have to go through a ton of steps over and over to set up each email. Seems like a pain in the ass.
The automations clearly seen more intended for writing one or two emails after a trigger, rather than an entire series.
Final Comparison
| Platform | Price for 5,000 subscribers |
| --- | --- |
| ActiveCampaign | $45/month ("lite" plan) |
| ConvertKit | $79/month |
| MailChimp | $50/month |
| MailerLite | $20/month |
ActiveCampaign is great for…
People who crave highly complex automations and user tracking. Think Infusionsoft, but much less expensive.
ConvertKit is great for…
People who want a nice amount of power, but with a wonderfully simple interface. You don't mind paying more money to have a sleek, easy solution.
MailChimp is great for…
Total beginners who aren't sure what they want to do with their list yet or just want a really basic set up (one list, no automations, just plain ol' mailing list or RSS to email). MailChimp is one of the most popular providers, which means there's no shortage of tutorials to help you get started. Their free plan gives you a lot of time to figure things out.
MailerLite is great for…
People who are on a tight budget but want more than what MailChimp can provide, including automations.