Hey, I'm Ashley, the creator of Boss Plugins.
I've been creating bespoke and pre-made WordPress plugins and themes for years. Usually my ideas are inspired by my own needs as a blogger and business owner. I think of a problem I have, a way I can solve it, then I ask myself if this is a problem other people have too. That's exactly how Easy Content Upgrades was born.
For a time, I was creating a ton of content upgrades but I had zero desire to login to ActiveCampaign and create a new form and automation for every.single.upgrade. Hell no. So I built a rudimentary solution for myself and used it on my own blog from day one.
After a while, I realized that people were having difficulty managing their content upgrades—particularly people on MailChimp. Common questions I saw were:
How can I give content upgrades to people who are already on my list?
How can I manage multiple content upgrades on my blog?
It is possible on MailChimp, but not without a lot of work, stuff that feels more like "hacking", and a bit of headache.
This inspired me to rebuild my own plugin from the ground up, make it even better, and add MailChimp support.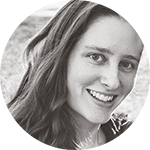 A bit about me
I'm a 25 year old American who lives in England (I fell in love with a Brit—'nuff said). I started my business creating WordPress products while I was still in university. It all began on my blog Nose Graze. This is where I cater to book bloggers, authors, and chat about whatever crosses my mind.
Follow: Twitter | Facebook Group | GitHub